La Rete Migranti del Celivo partecipa al progetto europeo C.H.A.M.P.S. – Uniti contro l'afrofobia – e lo declina in un progetto territoriale. I risultati presentati durante la settimana "Italia – Africa" del Consorzio SPeRA.
Genova, 8 giugno 2023 – La Rete Migranticoordinata da Celivo – nata nel 2011 e composta da associazioni ed enti che si occupano di migranti e integrazione nella città metropolitana di Genova – ha preso parte al progetto europeo C.H.A.M.P.S. – Uniti contro l'afrofobia, realizzando un progetto territoriale in linea con quello europeo. I risultati di quanto emerso a Genova vengono restituiti in un evento previsto nel pomeriggio del 16 giugno presso i Giardini Luzzati. L'iniziativa è calata nell'ambito del XIII Convegno "Italia – Africa" organizzato dal Consorzio SPeRA, previsto in città dal 12 al 16 giugno.
Il progetto C.H.A.M.P.S., acronimo di Champions of Human rights And Multipliers countering afroPhobia and afrophobic Speech (Campioni dei diritti umani e moltiplicatori nel contrastare l'afrofobia e il linguaggio afrofobico) è un progetto promosso da Amref Italia insieme ad alcuni partner tra cui CSVnet e la rete dei Centri di Servizio per il Volontariato, per combattere l'afrofobia e l'incitamento all'odio.
L'obiettivo di CHAMPS in Italia è analizzare e decostruire gli atteggiamenti e i linguaggi discriminatori nei confronti delle persone di provenienza africana, grazie al ruolo attivo e rafforzato delle associazioni di afrodiscendenti e a una più diffusa conoscenza e consapevolezza delle dinamiche che li generano.
IL PROGETTO GENOVESE: SITTING WITH A STRANGER (AL TAVOLO CON UNO STRANIERO)
La rete Migranti del Celivo ha ideato e realizzato il progetto "Sitting with a stranger" (al tavolo con uno straniero). In pratica è stato realizzato un esperimento sociale: in alcuni bar del centro storico un volontario della Rete Migranti ha invitato i passanti a entrare per un caffè offerto, accompagnandoli a un tavolo dove era seduta una persona afrodiscendente e invitandoli a scambiarsi reciprocamente informazioni sulla propria identità, attività, ecc. in pochi minuti.
Dopo l'incontro, è stato chiesto in privato un commento a entrambi; tutti i contributi sono stati messi assieme in un video-racconto sulle vicissitudini dei volontari e le testimonianze di chi si è seduto al tavolo. L'esperimento si è tenuto in più riprese tra aprile e maggio in 7 bar del centro; sono stati coinvolti 15 volontari afrodiscendenti e non, con un totale di 50 incontri effettuati.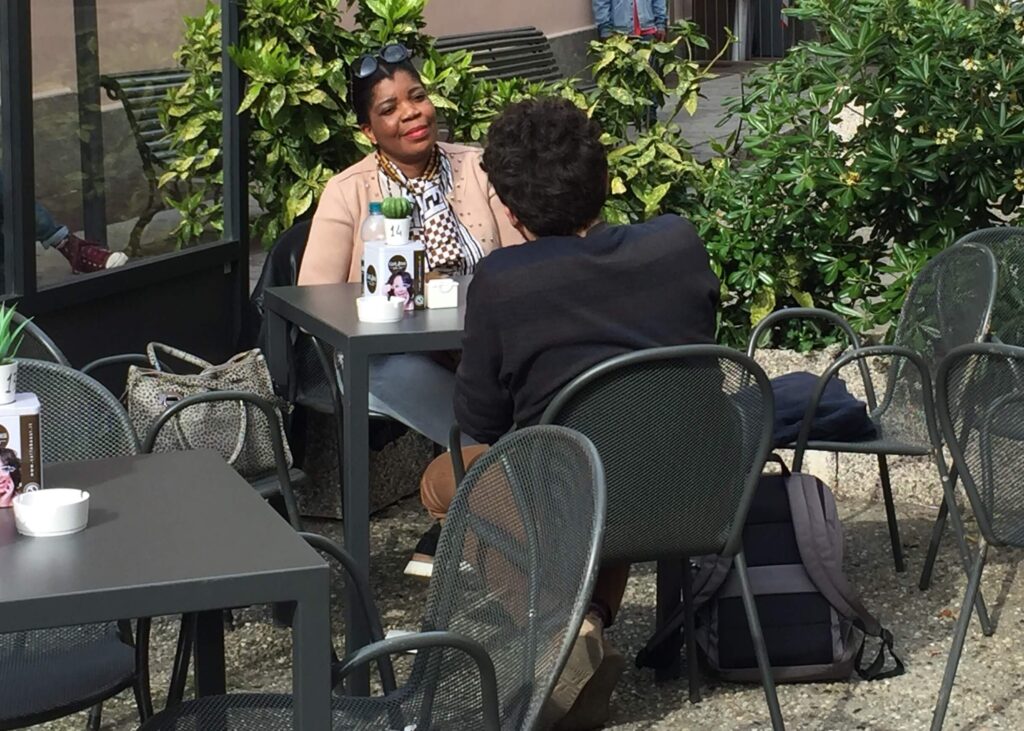 IL PROGRAMMA DI VENERDI 16 GIUGNO – AREA ARCHEOLOGICA GIARDINI LUZZATI
Si inizia alle 16:00 con l'accoglienza da parte dei protagonisti locali del progetto.
Alle ore 16:10 proiezione del filmato introduttivo progetto C.H.A.M.P.S. intitolato "Che volto ha l'afrofobia nella tua vita?"
Alle 16:15 proiezione del video-racconto "Sitting with a stranger" della Rete Migranti del Celivo.
Alle 16:45: Il razzismo quotidiano – Parole e racconti, condotto da Joy Obasuyi del progetto CHAMPS. Una serie di storie e testimonianze da parte di persone afrodiscendenti.
Alle 17:30: Genova e l'afrofobia: come siamo messi? Un dibattito aperto rispetto al contesto genovese.
L'accesso è libero, tutta la cittadinanza è invitata. Il programma dell'evento è disponibile sul sito del Celivo.
Francesca Sanguineti – 334-6818607 – ufficiostampa@francescasanguineti.it